ISOMAN Equalized Quarter Distance Rethymno - Race Details
Sprint Distance (2.800km, Swim, 24,6 km bike & 10,6 km run)
Routes:
SWIM - 2,8km - Two rotations of the polygonal arrangement in the clockwise direction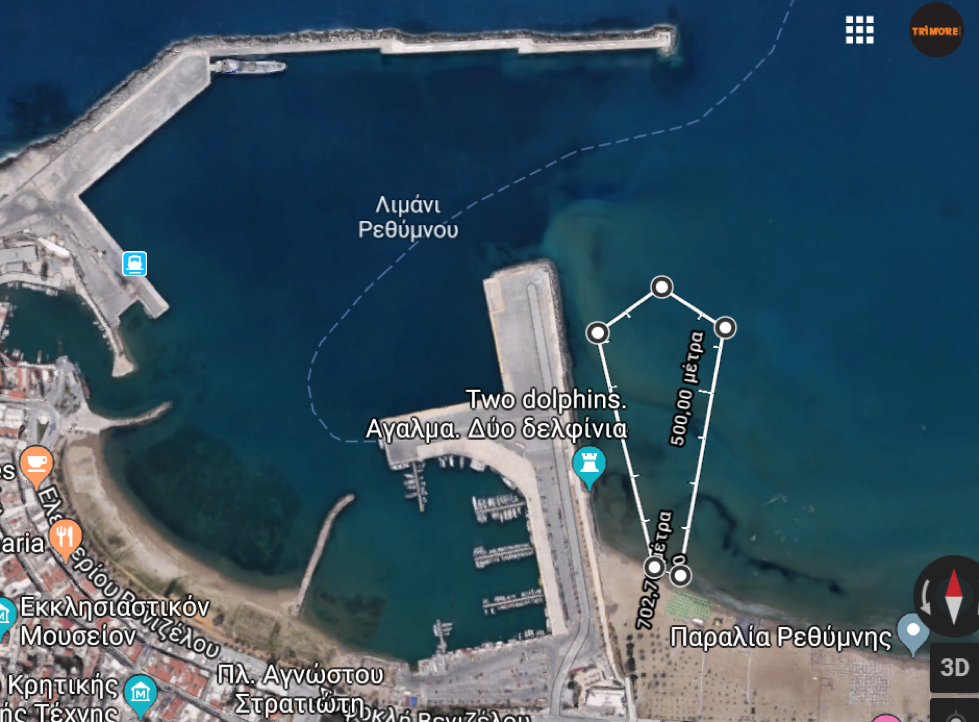 BIKE - 24.6km - Three spins on the seaside and it's eastern extension

RUN - 10,6 km - Two spins on an in-city route and an end at Unknown Soldier Square
Start: two dolphins statue beach.
End: Unknown soldier Square
Route: swimming two turns according to the movement of the clock indicators, in a polygonal arrangement marked by buoys, in front of the beach of the statue of the two dolphins, next to the parking lot at the port of Rethymno, leaving the water in the middle and running 10 meters , cycling three turns on the promenade west to Kastro and east to the end of the promenade and it's eastern extension, running two rounds on the promenade, the lighthouse of the harbor, around the castle moving west and joining the city ​​streets just after Sohora Stadium and up to the Unknown Soldier Square for an end to start the second rotation and finish at the square upon completion.
The race is non drafting and any offenders will be disqualified if they do not comply with the first observation of the judges

Starting time: 10.30 π.μ. for ISOMAN , Quarter Distance
Time limitation for athletes' finish (Cut Off) will not apply.

There will be water supplies to hydrate the athletes in front of Unknown soldier Square.
Wetsuit will be allowed as long as the water temperature does not exceed 24.9 ° C. The decision will be announced the day before the race at the athletes Race Brief. Using a wetsuit or not, does not classify athletes into different categories.
For route details, see the maps, while more details of routes, terms and regulations will be given to the Race brief that will take place prior to the event and is mandatory.
Everyone participating the race will receive a rich Athletes kit from the registrations office. The opening hours of the Secretariat will be announced on the site 10 days before the event.
For last-minute registrations, athletes should be aware that the Athletes kit they receive may not contain full content, given the organizer's inability to anticipate last-minute registrations. There is no obligation of the organizer to deliver material after the race
Athletes who register and do not participate at the race are not eligible to receive the Athletes kit after the race, as it is given to athletes who actually did the race.
Regarding the Cycling side, the rules of the Hellenic Cycling Federation apply to the race, as well as the equipment of the participants